One of New England's largest Thanksgiving Day Road Races takes off Nov. 26 and provides an apple pie to all finishers
ANDOVER, Mass. (November 12, 2015) – Running legends Joan Benoit Samuelson, Bill Rodgers and the inspirational father-son Team Hoyt will make appearances at the Feaster Five Expo from 4 to 6 p.m. on Nov. 25, greeting runners as they pick up their bibs at Sakowich Campus Center at Merrimack College, race officials announced Thursday.
Online registration for the Nov. 26 Thanksgiving Day Feaster Five Road Race – one of New England's largest and most festive running events – continues at www.feasterfive.com.
A holiday tradition for families and groups of friends across the region, every finisher at this Thanksgiving Day race goes home with an old-fashioned apple pie provided by Table Talk, a long-time New England favorite, hence the slogan "Will Run for Pie" on t-shirts, which are available for sale when registering on the race website.
This year the race welcomes two new gold sponsors, Schneider Electric and bPositive Project Apparel Company.
Suzanne Nobile of Schneider Electric said the global specialist in energy management and automation was anxious to provide support to the Feaster Five soon after relocating its North American headquarters to Andover last year. And the company's involvement doesn't end with its financial contribution as a gold sponsor.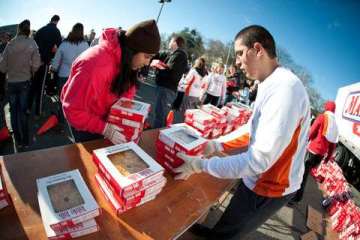 "Besides our financial support, a large number of local Schneider Electric employees – 90 so far and growing each week – will be running on Thanksgiving to help support the worthwhile causes that benefit from this fine event," Nobile said. "Schneider Electric is also dedicated to employee well being – in fact we are subsidizing a portion of each employee's registration fee through our Sustainable You! program. We even have an employee, Sandy Alicea (a Merrimack Valley Strider as well), who is preparing our participants with a "Couch to 5K" conditioning program."
In addition to its new gold-level sponsorship, b Positive Project Apparel Co. is providing an extra boost to one of the race beneficiaries.
"We have always loved this race so now we're super excited to be a big part of it," said Stephen Martin, CEO of the b Positive Project Apparel Co. "Each month we partner with a new charity so we've decided to make Ironstone Farm – one of the Feaster Five beneficiaries – our November Positive Project. We will contribute 25 percent of our total sales from the Feaster Five Expo to Ironstone Farm and hope to be able to send 50-plus kids to camp. We encourage everyone to stop by our expo booth for holiday gifts for family and friends and together we will make a big impact on Ironstone Farm."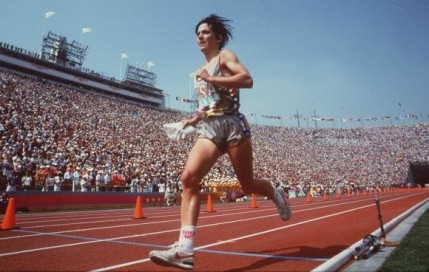 The Feaster Five Expo (Nov. 23-25) will offer runners a wide selection of merchandise and information as well as the opportunity to meet some of the true legends of road racing on Nov. 25 (4-6 p.m.). Olympic Gold Medalist Joan Benoit Samuelson will join four-time Boston Marathon champ Bill Rodgers as well as Dick Hoyt and his son Rick, who have completed more than 1,000 road races, marathons and triathlons together since 1977 with Rick seated in a specialized wheelchair.
Every 50th runner in the 5K or 5 mile also will win a $25 gift certificate to gold sponsor Whirlaway Sports, and every child in the kid's race will receive a medal shirt. The Feaster Five also features bands and music along the course, digital clocks posted at each mile, and holiday refreshments following the race.
In addition to the Gold sponsors, other sponsors include: Silver – Eagle-Tribune Publishing, Table Talk Pies, Bagel Boy, Wignall Animal Hospital, Dunkin' Donuts, GW & Wade, Brookwood Financial, Tallman Eye, Holy Family Hospital, Kiwanis, Orange Leaf and Lawrence General Hospital; and Bronze – Woodworth Motors, Brickstone Square, Costa Fruit, Fuddruckers, Seacoast Coca-Cola, Dick's Sporting Goods, Burton's Grill, Cape Cod Chips, Smolak Farms, Larabar, Food Should Taste Good, Off-Season Sports, Power Crunch, Andover Rotary Club, Joseph Bakery, Tactician, MFA, Histogenics Corporation, Red Sox Foundation, Circle Health (Lowell General Hospital), Stonehedge Inn & Spa, BNY Mellon and Salem Five. To become a sponsor, contact [email protected].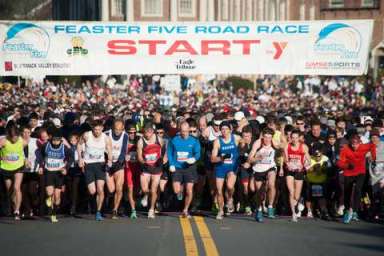 Hosted by the Merrimack Valley Striders and managed by DMSE Sports, the Feaster Five Road Race's 5-mile and 5K races will begin at 8:30 a.m. and the Kid's Fun Run at 7:45 a.m. on Thanksgiving Day.  All three races – which welcome walkers as well – begin near Brickstone Square on Main St. in Andover at the corner of Route 133 and Route 28.
Race officials have registered as many as 10,700 in past years and are encouraging runners and walkers to sign up soon.
Proceeds from the race will benefit the Merrimack Valley YMCA, Challenge Unlimited at Ironstone Farm, Bellesini Academy and the Merrimack Valley Striders.
To learn more about the race and to register, go to the race's website at www.FeasterFive.com. Once runners or walkers have registered, they can update their details via the www.myevents.active.com link on the website.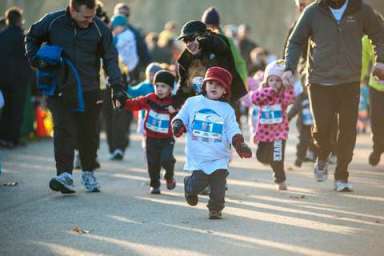 Volunteers also are needed. Detailed information about how to sign up to help on race day can be found on the volunteer page at www.feasterfive.com/Volunteer or by e-mailing Crissy Licciardello at [email protected].
The non-profit Merrimack Valley Striders was founded in 1979 to encourage and enhance running at all levels – from beginners to seasoned marathoners to members who run to improve their health. Though founded in the Merrimack Valley north of Boston, the running club has members from as far away as Florida and Arizona. For additional information, visit www.mvsruns.com.
For additional information and to register, go to the race website at www.FeasterFive.com.
Founded by Dave McGillivray in 1981, DMSE Sports is a leader in sports event management, specializing in creating, marketing and producing mass participatory athletic events throughout the U.S. and abroad. In addition to the Feaster Five, DMSE manages the B.A.A. Boston Marathon, the TD Beach to Beacon in Maine, the New Balance Falmouth Road Race on Cape Cod, the Finish at the 50 at Patriot Place, Run for the Dream in Williamsburg, Va., the Bellin Run in Green Bay, Wis., and the Boston Marathon Jimmy Fund Walk, among others. For more info, visit www.dmsesports.com.